Sustainability
Most sustainable protein in the world!

Salmon produced by Mowi is by the Coller FAIRR Protein Producer Index ranked as the most sustainable protein in the world three years in a row (2019, 2020 and 2021). The report analyses the 60 largest listed producers of animal proteins (meat, dairy and aquaculture) for human consumption globally by combining nine environmental, social and governance (ESG) risk factors with the Sustainable Development Goals (SDGs).
You'll find the full report online: https://www.fairr.org/index/


Our vision is to lead the Blue Revolution, in our annual report you could get the full overview on how we every day strive to produce our salmon in the most sustainable way.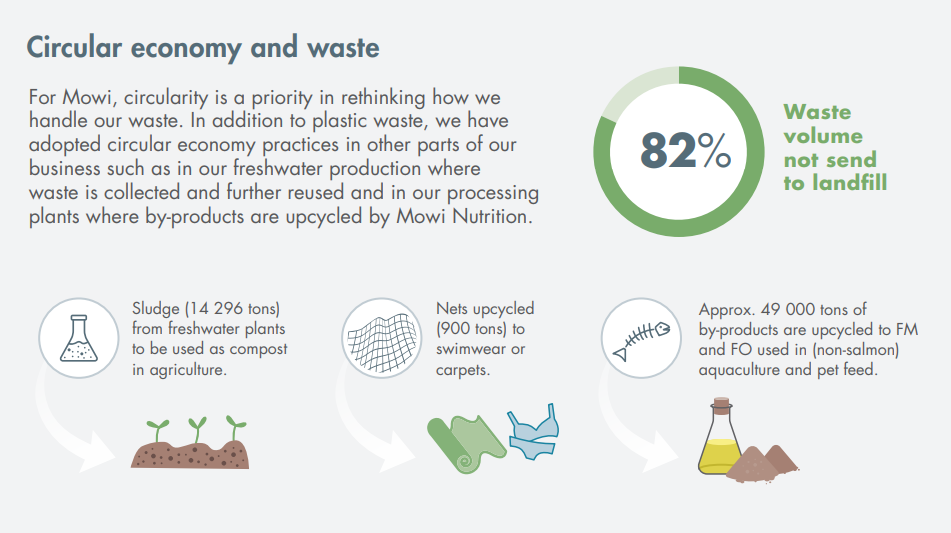 From Mowi ASA 2020 annual report.
The ASC sets an unprescedented standard for sustainable seafood production. Mowi welcomes the initiative and is committed to working towards 100% ASC certification.
The ASC programme ensures our focus on:
Protecting biodiversity
Producing sustainable feed
Reducing environmental impact
Ensuring good fish health
Taking good care of our employees
The GSI unites 15 global farmed salmon producers committed to greater industry cooperation and transparency. The initiative aims to make significant strides in providing sustainable farmed salmon to feed a growing population. The GSI focuses on improving industry performance across three pillars of sustainability:
Reducing environmental impact
Increasing social contribution
Maintaining economic growth
No waste!
We use the whole salmon - nothing goes to waste!
Quality
A vertical integrated value chain ensures our trusted quality. From roe via our fjord farms and packing stations to our salmon oil and meal facilities.
Fresh raw material
To ensure quick processing of our salmon raw material our oil and meal factories are located from the southern to the northern part of Norway. This reduces transport time and enables us to produce stable high quality salmon proteins and oil all year round.
Food grade
Mowi produces 6.4 million servings of salmon per day. All our raw material is food grade quality and fresh produce.
Traceability
Vertical integration enables us to trace our salmon oil and meal ingredients back to the salmon river it originates from. We can even present at CV for each salmon the raw material comes from. We also produce our own fish feed, which ensures high quality and full traceability to all sources of ingredients.
Quality control
Our salmon meal and oil is your ingredient, therefore our experienced process operators monitor quality through the whole production. All raw material supplies are logged and controlled upon arrival. Temperature, pressure and speed is automatically monitored and electromagnetics ensure that foreign bodies are sorted out. Throughout the production we add antioxidants to avoid process oxidation and finally we add the customer specific antioxidant, to keep your final product stable. To guarantee high ingredient quality external laboratories carry out analysis on all batches.
Our value chain
Salmon farming follows the same cycles that occur in the wild and our guide illustrates the processes that take place. The life cycle of salmon starts in freshwater and involves several stages before the young salmon (smolt) are ready for the sea.
Eggs

Fertilised eggs are kept in incubation tanks in fresh water. There are approximately 5,000 eggs per litre. The eggs hatch into tiny fish (alevins), which have a yolk sac that provides nutrition until they are large enough to feed themselves.

Parr

Once they weigh about six grams, the fish are moved to larger freshwater tanks or to an open net cage in a lake. The fish now develop into parr and once they weigh about 60–80 grams they're ready to move on to the smolt stage.

Smolt

This stage is when the fish undergo a physiological change that enables them to move from fresh water to seawater and become young adult salmon. The smolts are kept in net pens in the sea until they mature into adult salmon.

Harvest

After just over a year in the sea the fish will have reached market weight (4.5 to 5.5kg) and are then harvested – in a variety of ways depending on the region.

Processing

Mowi processing activities take place in their own specialised facilities around the world.

Distribution

Mowi logistics managers use a combination of road, rail, ship and airfreight. Their priority through all stages of distribution is to maintain the freshness and quality of the fish and fish products and to minimise the amount of time and miles it travels.

Oil and meal processing

Experienced process operators monitor the automized cooking, pressing and decanting line. The salmon meal is dried and milled while the oil is separated and polished.

Oil / Meal

The final product is analysed internally and by external laboratory. We supply both bulk and packaged and with customer specific antioxidants.